To continually adapt to AN environment IN ORDER to thrive
Business transformation happens in the middle. We don't get to hit the brakes, stop our business and fix whatever needs work while the rest of the world waits. Evolving a business while operating takes particular skill but it isn't optional. It isn't a nice to have or a luxury. It literally is the act of running a business moment to moment, year after year. The alternative is waiting for change to wash you away. Our business transformation work helps you look at how the world is changing, how your patients are changing and how you need to change to stay at the top of your game. Often when transforming our businesses we find that, as healthcare leaders, we must transform ourselves so we work closely with you to support you through your journey.
Business transformation when done well is revolutionary as well as evolutionary. But revolutions take ambition, courage and work. We don't do things by half so we work closely with people who have got what it takes. We often start by co-developing the vision. Then we work in partnership, side by side covering a lot of ground from research, strategy, brand, platform, product to team, systems and processes. Not a light touch way of working but a great way of working. We lash our boat to yours and we navigate the waters together. Similar to business creation but we are working with something that already exists.
Business transformation happens every five to ten years depending how fast a sector moves.
You are unique. Your business is unique. Why would you want an off the shelf approach that constrains what you want to do? You wouldn't right? Our business transformation work is always bespoke to you while it has frameworks to help. We have the skills, experience and know how to bring your vision fully to life. But it is your vision and your life. We are there to guide, structure, encourage and in some areas get stuck in ourselves but we don't operate your organisation for you. That pleasure is yours. We help you create the future you want to live in. The day to day is your domain.
What does the future of your business look like?
Evolution often involves some of the following:
Vision
Research
Strategy
Brand
Platform
Enviroment
Awareness
Product
Systems
Processes
Team
Launch
FOR INFORMATION ABOUT BUSINESS TRANSFORMATION OR TO ARRANGE A CHAT 

GET IN TOUCH
Recent MANIFESTATIONS and EVOLUTIONS
Client
\
Avicenna Pharmacy is a leading community healthcare provider with an expanding, national estate of over 140 pharmacies.
\
Award winning!
\
Avicenna Pharmacy entered these designs in the Chemist and Druggist Awards 2022 and won the Pharmacy Design Award. Nice.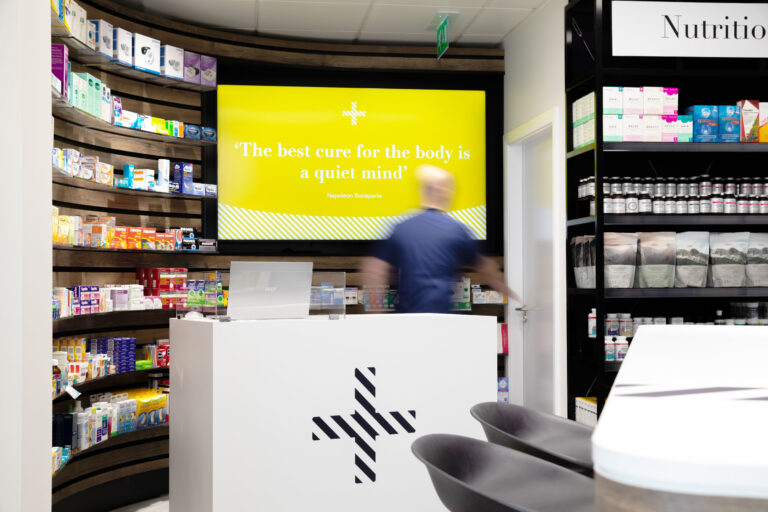 Client
\
Broadway Pharmacy with Cure Clinics is a groundbreaking community healthcare provider caring for the people of Lancashire.
\
Services provided
\
This was a real partnership in the best way possible. There was likely more than we have listed that is now lost to time. Click through to see the full list of how a transformation partnership can work.
FURTHER MANIFESTING and EVOLVING
In brief, some of our other work around making things real.
Lancashire Vaccination Centre
Co-creation project with Broadway Pharmacy with Cure Clinics beginning with the first community pharmacy led mass vaccination centre ever (really) prior to the Covid-19 vaccination programme to deliver flu vaccinations to existing patients. Expanded to become the largest Covid-19 vaccination provider in the North West of England with multiple sites. Recently awarded the Pertussis vaccination programme across 40+ maternity wards in the North West. No messing about. The LVC team are epic.
Dears Pharmacy
We've been working closely with our Scottish champions since 2016 and have supported their digital presence, marketing and branding with multiple evolutions. In 2022 we rationalised their brand architecture and re-invented their digital presence across six properties while they continue to grow to over 20 pharmacies across central Scotland.
World Pharmacy Council
Design of the 2022 report: Vaccination services in community pharmacy and writing and designing the associated development guide for the seven member nations across the globe and distribution to other countries via Pfizer. Pleased that community pharmacists around the world might believe in themselves a little more and have just enough confidence to make community pharmacy vaccinations services real where they are.
Dentistry by Cure Clinics
Continuing our long term collaboration with the team behind Broadway Pharmacy and Lancashire Vaccination Centre we worked on the conception and development of a premium private dental practice and how that best fits into the top level brand architecture.
PSNC SOON TO BE COMMUNITY PHARMACY ENGLAND
Design of static and web based Annual reports for 19/20, 20/21 and 21/22 along with naming and design of the Review Steering Group Proposal Document: Setting the direction for pharmacy representation in 2022. Not bad.
Maxwellia
Design of training materials for new product launches including Lovima and Aquiette for this POM to P switch specialist pharmaceutical supplier. Maxwellia entered the teams work for Lovima in the OTC Marketing Awards and were shortlisted in the Best OTC Pharmacy Training and Learning category.